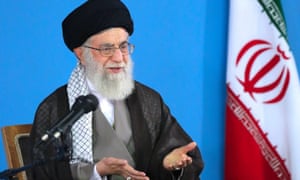 Iran's supreme leader has said that Tehran will not expand talks with the United States beyond the international negotiations over its nuclear program and predicted that Israel would not exist in 25 years. Here is a sample of Ayatollah Ali Khamenei's remarks on September 9th.
Can Iran be trusted?
"We approved talks with the United States about the nuclear issue specifically. We have not allowed talks with the US in other fields and we will not negotiate with them," Khamenei said at a gathering of hundreds of people in a mosque in Tehran, according to his official website.
Khamenei said America remains the "Great Satan", and warned that cooperation with Washington on other issues would allow it to "penetrate" the Islamic republic.
"The Iranian nation ousted the Satan. We should not let it back through the window," he said, referring to the 1979 Islamic revolution that toppled the US-backed shah.
And about Israel?
"Some Zionists have said that regarding the result of the nuclear deal they [Israelis] have been relieved of concerns about Iran for 25 years. But we tell them that you will not see the coming 25 years and God willing there will not be something named the Zionist regime in the region."
Source: Iran's leader: Tehran will not expand talks with US beyond nuclear deal | World news | The Guardian